Three Hot New Releases!

Grump of Cole

Loathing leads to love in this holiday grump romance: Cole Henster – he was my secret shame – the guy I loved to hate and would hate to love, because like everyone else, I knew the cold, hard truth. The guy's heart was frozen solid, like a snowball left for too long in the freezer.

He wasn't just my boss. He was a grump. A monster. A stone-cold corporate raider who'd rolled into the company like a giant ball of ice, leaving a trail of wintery destruction in his wake.


The guy should look like a goblin. But did he? Of course not.


And just when I think I'm out of danger, I discover the monster living directly across the street from my swanky new Christmas cat-sitting gig. On the upside, the monster wouldn't be discovering me. Not if I could help it.
Nerdy or Nice

A nerdy girl meets her match in this fun holiday romance: Drake Slater – even his name screams trouble. With his killer looks and cocky smile, some might say he's the good kind of trouble, the kind that even smart girls can't resist.

It's an oh-so festive thought, but I'd be a fool to get jolly for it. Unlike my carefree mom, I know that muscular pretty-boys are a recipe for disaster. Having witnessed far too many disasters already, I stick to guys of the other variety – nerdy or nice, preferably both.

And yet, I can't help myself from falling just a little...
Dash of Bryce

A practiced pessimist meets her match in this fun holiday romance from a USA TODAY Bestseller: Bryce Beckett. With his killer abs and bulging bank account, the guy is surely out of my league, especially for anything permanent.

But maybe I don't want anything permanent. Maybe all I want is to forget what happened the last time I dared to think of forever.

These days, I'm a realist. I know what I am, and I know what I'm not. Sure, I'm cute, I suppose, but I'm hardly the kind of beauty that a guy like him would go ga-ga for.


Even so, I might be falling for Bryce just a little. Or maybe a lot. But could a guy like Bryce ever fall for me?
Unbelonging 4-Book Box Set
By popular demand, all four books starring Lawton & Chloe are now available in Kindle Unlimited and in a special NEW box set. (Click HERE to get on Amazon.)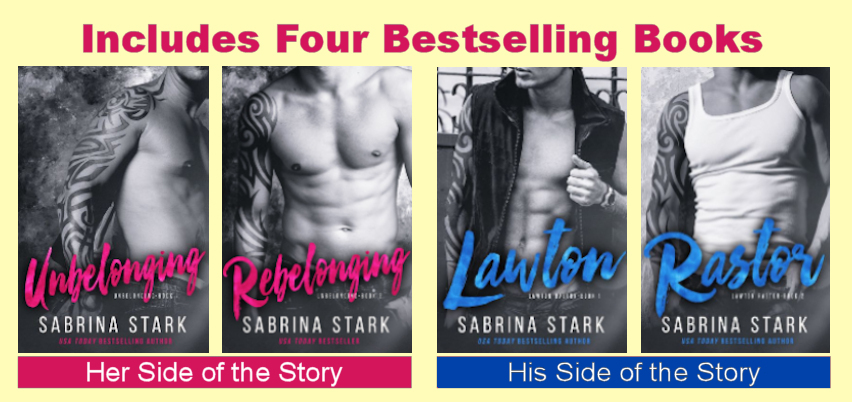 Look for More Exciting Romance Books Coming Soon!