Now Available!
Surrounded by sharks and living on her own, Melody Blaire has been too outnumbered to shake things up. But that was all before him – the brooding Adonis who's way too dangerous to play it safe. He's fast. He's fearless. He's Joel Bishop, the hard-bodied brawler who's no stranger to a wicked fight.
Brought together by mischief and mayhem, Melody and Joel soon discover that neither one is quite what they seem. Soon, Melody's wondering…Is Joel's tough exterior hiding the soul of a true artist underneath?
A full-length novel, this new adult contemporary romance is the first in a two-book series starring Joel Bishop. Book-two, Something True, is coming this Fall.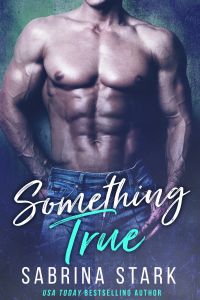 Coming Oct. 15
Something True (Joel Bishop, Book 2)
This fall, look for the exciting conclusion to Joel and Melody's tumultuous love-story. Separated by forces beyond their control, Joel and Melody are lost without each other. But can they find their way back and finally claim the happy ending they both deserve?
Read a Sneak Peek of Chapter 1
For updates about this and other new releases, join my mailing list and get a free book of deleted scenes and other goodies.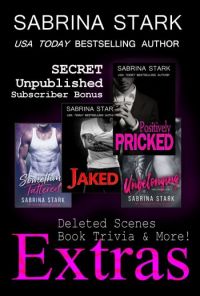 New Exclusive!
Secret, Unpublished Extras
A Book of Exclusive Goodies... Sign up for my confidential mailing list, and get this exclusive book of extras for FREE. In this super-secret bonus book, you'll find deleted & extended scenes, book trivia, and more!
It includes bonus content from these best-selling series: Unbelonging, Jaked, Illegal Fortunes, and Something Tattered. How to get your FREE book.
Email:
sabrinastark.writer (at) yahoo.com