What's Next?
Next up...a New Standalone Romance!
Look for more details, coming soon!
In the meantime, have you gotten your free bonus book?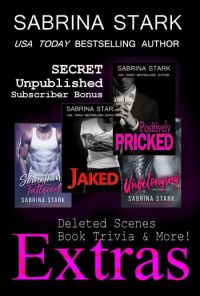 A Book of Exclusive Goodies
Sign up for my confidential mailing list, and get this exclusive book of extras for FREE. In this super-secret bonus book, you'll find deleted & extended scenes, book trivia, and more!
It includes bonus content from these best-selling series: Unbelonging, Jaked, Illegal Fortunes, and Something Tattered.